Baku
Azerbaijan's capital and largest city, this is a city where past and present are intertwined. The Old City's Icheri Sheher fortress is a UNESCO World Heritage Site, dominated by the adjacent 12th century Maiden Tower. But there are many more facets to this fortress complex: the Shirvanshah's Palace, the Sinik-Gala minaret, mosques, caravanserais and baths. However, it's the modern city that is making headlines. The twin Flame Towers, suitably illuminated after dark, are already one of the country's most recognisable landmarks and the Crystal Hall will be readily identifiable by Eurovision fans following 2012's Song Contest there. While in Baku, don't forget to stroll along the City Seaside Park by night lit with neon lights. The city's myriad museums, concert halls, shopping malls and restaurants will also tempt most visitors to linger a while.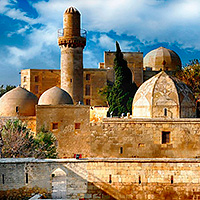 Highlights of Azerbaijan - 6 days (AZ-01)
With so many treasures scattered throughout the country, it can be hard to know where to begin on a tour of Azerbaijan. This six day tour comprises the major landmarks and ancient towns including Sheki and Shamakhi. This trip is a good introduction to this fascinating country.
Duration:
6 days
Price:
from £945
Read more
Book now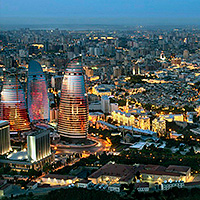 Best of Azerbaijan - 8 days (AZ-02)
This eight day tour offers the chance to comprehensively explore the fascinating Azerbaijan. Beginning in the nation's capital, you'll visit historically important cities and towns, see the curious natural phenomenon that is Yanar Dag and the 16th century Ramana Fortress.
Duration:
8 days
Price:
from £1,095
Read more
Book now