Best of Georgia and Armenia - 10 days (CT-01)
During these 10 unforgettable days you will have a chance to visit two countries: Georgia & Armenia and enjoy fantastic hospitality and unique cultural landmarks.

Tbilisi

Mtskheta

Uplistsikhe

Yerevan

Garni

Goris

BOOK ONLINE AND GET A £75 DISCOUNT PER PERSON
OFFER ENDS 30 JUNE 2021
ONLINE BOOKING CODE - BOOK052021

Arrival in Tbilisi and check in to the hotel.

Today we start with Tbilisi city tour. We will also visit the Georgian National Museum and take a stroll along Rustaweli Avenue.

Day 3. Tbilisi - Mtskheta - Kazbegi - Gudauri

Visit Mtskheta - an ancient Georgian capital, UNESCO-listed Jvari Church, and the 11th century Svetitskhoveli Cathedral. Drive via the ski resort of Gudauri to the stunning mountain landscapes of the Kazbegi region. There, we'll take a jeep tour up to the 14th century Gergeti Trinity Church.

Day 4. Gudauri - Gori - Uplistikhe - Gelati - Kutaisi

Today we will visit Stalin's birthplace, Gori. Then we will enjoy Uplistikhe Cave Town, located on the historic Great Silk Road. Next, we drive to Kutaisi to visit the Gelati Monastery and Academy Complex, a 12th century UNESCO World Heritage Site.

Day 5. Kutaisi - Bagrati - Promete - Tbilisi

Today we begin at the 11th century Bagrati Cathedral before moving on to nearby Prometheus Cave. In the evening we drive back to Tbilisi for a gala dinner in a traditional Georgian restaurant to enjoy folk dancing and singing. Transfer to the railway station. Departure to Yerevan.

Day 6. Yerevan - Ejmiatsin - Zvarnots - Yerevan

Arrival and transfer to the hotel. We will have a city tour of Yerevan. We will also visit the Matenadaran Library with its collection of manuscripts. Later, we'll tour the brandy factory to explore the history of Armenian cognac. From Yerevan, we make an excursion to the centuries-old monuments of Ejmiatsin and Zvartnots.

Day 7. Yerevan - Khor Virap - Noravank - Tatev - Goris

After breakfast, we'll take a trip to Khor Virap Monastery, which dates from the 4th century. Then we will continue the tour to Noravank, a 12th century monastery situated on a ledge within the sheer cliff face of a meandering gorge. Next, we drive to Goris to visit the Tatev Monastery by cable car.

Day 8. Goris - Selim Caravanserai - Noratus - Yerevan

Today, following breakfast, we'll travel to Sevan via the Selim Pass stopping at Selim Caravanserai.

Day 9. Yerevan - Garni - Geghard - Yerevan

We'll take a trip to Garni where we will walk along the canyon, past the beautiful columnar basalt 9th century stone bridge and explore the Pagan Temple. Next, we'll head to Geghard Monastery and also pay a visit to a local house where you will participate in the preparation of the Armenian bread, lavash.

Departure, transfer to the airport.

Click here to view detailed day-by-day itinerary of this tour

Quick Facts
Season

: Four Seasons

Departs

: As per schedule

Duration

: 10 days

Group Size

: 2-10

Tour Grade

:
Included in the Tour Price
International flights
Our advertised package price is based on economy flights from / to London. If you depart from a regional airport in the UK or another country, there might be additional surcharges for international airfares. Upon booking a tour you will be offered various flight options. Please note, the package price depends on the availability of flight tickets and will be reconfirmed by your travel consultant. The airfare is not guaranteed unless ticketed. We advise to book sooner than later as the airfare may go up closer to your departure date, especially during high seasons.
Accommodation
All accommodation at your destination is included in the holiday price. Hotel category - according to the package type selected.
Guided tours & cultural programme
All tours with entrance fees listed in the itinerary are included in the holiday price. There will be an English-speaking guide on all tours. Please note, we can arrange guides speaking other languages upon request. Please let us know your preferences.
Half-board meals
Half-board (breakfast and dinner) each day. Service begins with dinner on the day of arrival and ends with breakfast on the day of departure. Please advise us if you have any special dietary requirements. You will be able to get quick lunch at your expense during excursions stopping at local cafes or restaurants.
Ground transportation
All domestic transportation at your destination is included as per the itinerary. In the countryside we use chauffeur driven 4WD jeeps and in the city areas – minivans or coaches. All vehicles have air-conditioning system.
Airport & railway transfers
All airport and railway transfers as per itinerary are included in the tour price. We will also provide airport transfers if you arrange your own arrival / departure flights regardless of the time of the flight, you will need to let us know your flight details. We operate all transfers 24 hours a day.
Not included
Personal travel insurance
Personal travel insurance is not included in the holiday price. It is advisable to take out your travel insurance at the time of booking your trip as cover will commence for pre-departure cancellation from the policy issue date. You can arrange your personal travel insurance on
our website
.
Optional excursions and services
Optional excursions and services not listed in the itinerary. Please let us know if you wish to book any additional excursions.
Arrival in Tbilisi and check in to the hotel. (D)
On today's programme is a comprehensive city tour encompassing the must see sights of the Georgian capital Tbilisi. Beginning in the Old Town we'll pay a visit to the 13th century Methekhi Church before making our way to the 4th century Narikala Fortress. Our tour continues with a stop at the 6th century Antchiskhati Church, the 12th century Sioni Cathedral and also a historic synagogue. Finally we'll pay a visit to the treasury at the Georgian National Museum and take a stroll along Rustaweli Avenue, one of Tbilisi's most important streets. Overnight in Tbilisi. (B, D)
Day 3. Tbilisi - Mtskheta - Kazbegi - Gudauri
Leaving Tbilisi after breakfast, we head to Mtskheta, an ancient capital as well as an important religious centre. We'll tour the UNESCO-listed Jvari Church, which dates from the 6th century, and also the 11th century Svetitskhoveli Cathedral. We'll journey along the Georgian Military Highway, stopping for a tour of the Ananuri architectural complex. Then a drive via the ski resort of Gudauri takes us to the stunning mountain landscapes of the Kazbegi region. There, we'll take an included jeep tour up to the 14th century Gergeti Trinity Church, perched at an altitude of 2,170 metres. Lastly, we'll descend to Gudauri for an overnight stop. Overnight in Gudauri. (B, D)
Day 4. Gudauri - Gori - Uplistikhe - Gelati - Kutaisi
The Russian leader stalin was actually born in Georgia and today we'll visit his birthplace, Gori, where there's a fascinating museum dedicated to his life. There we'll visit Uplistikhe Cave Town, located on the historic Great Silk Road. Next, we drive to Kutaisi, Georgia's second largest city, in order to visit the Gelati Monastery and Academy Complex, a 12th century UNESCO World Heritage Site. Overnight in Kutaisi. (B, D)
Day 5. Kutaisi - Bagrati - Promete - Tbilisi
For our final full day's sightseeing, we begin at the 11th century Bagrati Cathedral before moving on to nearby Prometheus Cave. There, we'll be impressed by its many stalactites and stalagmites. Towards the end of the day we drive back to Tbilisi for a gala dinner in a traditional Georgian restaurant, where we'll sample local specialities and enjoy folk dancing and/or singing. In the evening our driver will transfer you to the railway station. where we will take an overnight train to Yerevan. (B, D)
Day 6. Yerevan - Ejmiatsin - Zvarnots - Yerevan
Early arrival in Yerevan. Our driver will meet you at the train station and transfer to the hotel. After breakfast we will have a city tour of Yerevan, the capital of Armenia. Yerevan is one of the oldest cities in the world, 29 years older than Rome in fact. Our first stop will be the history museum and then we'll move on to the remarkable Matenadaran Library. With its collection of 17,000 rare items, it is one of the world's oldest repositories of Greek, Persian and Arabic manuscripts. Later, we'll tour the brandy factory to explore the history of Armenian cognac and of course, taste a few. From Yerevan, we make an excursion to the centuries-old monuments of Ejmiatsin and Zvartnots, which are both listed on UNESCO World Heritage list. The Cathedral of Ejmiatsin, dating from 303AD, is still an official residence of Armenian Catholicos to this day. Our tour continues on to Zvartnots, the Temple of Vigil Forces or Heavenly Angels, constructed from the 7th century onwards. Overnight in Yerevan. (B, D)
Day 7. Yerevan - Khor Virap - Noravank - Areni - Tatev - Goris
After breakfast, we'll take a trip to Khor Virap Monastery, which dates from the 4th century. The importance of this monastery is tied in with Gregory the Illuminator, who introduced Christianity in Armenia. Here you can enjoy a spectacular view of the sacred Ararat Mountain - an immortal symbol of Armenia. Then we will continue the tour to Noravank, a twelfth century monastery situated on a ledge within the sheer cliff face of a meandering gorge. Moving on, you'll visit Areni village for a wine tasting. Next, we drive to Goris, where we will have a beautiful excursion to the ancient Tatev Monastery. To reach it, we'll need to ride the world's longest non-stop reversible cable car. Tatev Monastery, which dates from the 9th century, is a former centre for the sciences and the arts and today the complex consists of three churches, a refectory, a library, a vault and several residences. Magnificent canyons surround the monastery. Overnight in Goris. (B, D)
Day 8. Goris - Selim Caravanserai - Noratus - Yerevan
Today, following breakfast, we'll travel to Sevan via the Selim Pass, through which the Great Silk Road passed. We'll stop at Selim Caravanserai, built in the 14th century to accommodate weary travellers and their animals as they crossed from, or into, the mountainous Vayots Dzor region. Overnight in Yerevan. (B, D)
Day 9. Yerevan - Garni - Geghard - Yerevan
After breakfast, we'll take a trip to Garni. You will walk along the canyon, past the beautiful columnar basalt 9th century stone bridge over the Azat River to Garni the Pagan Temple. This temple was built in the 1st century AD, but in 1679 it was destroyed by an earthquake. In 1975 the temple was restored. Next, we'll head to Geghard Monastery, whose name came from the legendary lance that was used to pierce the body of Christ, and which was kept here for centuries. Though the exact foundation of the monastery is unknown, the present complex was built in the mid 13th century. Afterwards you'll pay a visit to a local house where you will have the chance to see and participate in the preparation of the Armenian bread, lavash, before heading back to Yerevan. Overnight in Yerevan. (B, D)
After breakfast at the hotel, you'll be collected for your return transfer to the airport. (B)
BOOK ONLINE AND GET A £75 DISCOUNT PER PERSON
OFFER ENDS 30 JUNE 2021
ONLINE BOOKING CODE - BOOK052021
Want to travel on different dates?
Please see below for our group tour dates, if you would like to travel on a different day, please
let us know
and we will come back to you with an offer. There might be additional surcharges for a private tour but all depends on the number of people in your party and your travel preferences.
Note on pricing
Prices depend on the hotel category and are listed below. Please read
notes
at the bottom of the table to learn more about the meaning of each pricing section.
Hotel Gureli
Tbilisi 3*
Hotel Coste
Tbilisi 4*
Hotel Club 2100
Gudauri 3*
Hotel Gora
Kutaisi 3*
Hotel Tskaltubo Plaza
Kutaisi 4*
Hotel Cascade
Yerevan 3*
Hotel Tufenkian Historic
Yerevan 4*
Hotel Mina
Goris 3*
Hotel Mirhav
Goris 4*
Address: 10 Makhata str. Tbilisi, Georgia
Telephone: +995 32 220 00 90
DESCRIPTION
The centrally located Gureli Hotel is conveniently situated just a five minute walk from the Avlabari metro station in the heart of Tbilisi. Freedom Square is a ten minute subway ride. This modern hotel is stylish, clean and designed with comfort in mind.
Its modern rooms are well equipped, featuring air conditioning, minibar, flat screen TV and private bathrooms as standard. In addition, some rooms have their own balcony. Free WiFi is provided and private parking for guests is also available. Continental breakfast is provided and it is possible to arrange packed lunches too.
FACILITIES
24 hour reception
Private parking
International TV
Bar
Laundry service
Free internet access
PHOTOGALLERY
top
Address: 45a Merab Kostava Str, Tbilisi, Georgia
Telephone: +995 32 219 11 11
DESCRIPTION
The newly renovated Costé Hotel is an excellent choice for discerning guests. Featuring contemporary design, it places a firm emphasis on service as well as style. The hotel has many facilities aimed at enhancing guests' stay, including a library and wine corner, free WiFi and free on-site parking. Its restaurant offers Georgian and European cuisine.
The 60 rooms are well equipped and have air conditioning, a seating area and flat screen TV with cable channels. The location just a short stroll from Rustaveli Avenue ensures you are at the centre of the action.
FACILITIES
24 hour reception
24 hour housekeeping
Concierge service
Business centre

Deposit boxes
Air-conditioning
Complimentary bikes rental
Free internet access
PHOTOGALLERY
top
Hotel Club 2100 Gudauri 3*
Address: Kazbegi District, Gudauri, Georgia
Telephone: +995 571 21 00 00
DESCRIPTION
The location of Hotel Club 2100 in the ski resort of Gudauri at a lofty 2,100 metres above sea level ensures excellent views and fresh mountain air whatever time of year you visit. The hotel prides itself in offering a warm welcome and excellent service to all guests.
The 54 comfortably furnished rooms afford all the usual conveniences including WiFi. The hotel's facilities include a restaurant serving tasty Georgian and European dishes, an outdoor terrace, sauna, Jacuzzi and bar.
FACILITIES
24 hour reception
Private parking
Ski equipment rental
Sauna & jacuzzi
Bar
Free internet access
PHOTOGALLERY
top
Address: Debi Ishkhneli Street 22, Kutaisi, Georgia
Telephone: +995 551 92 90 92
The simple Hotel Gora is an ideal choice for those wishing to opt for budget accommodation without sacrificing comfort. It has classically furnished rooms which have a television and also a private bathroom with shower, hair dryer and toiletries.
Free parking is available at the hotel and there is also access to free WiFi. The hotel is well situated just a ten minute walk from Bagrati Church and around five minutes from central Kutaisi. Local dishes are served at the hotel's restaurant with a range of other eateries nearby. Laundry services are available on site.
FACILITIES
24 hour reception
Private parking
Laundry services
Air-conditioning
Winter garden
Free internet access
PHOTOGALLERY
top
Hotel Tskaltubo Plaza Kutaisi 4*
Address: 15a Rustaveli St, Tskaltubo (near Kutaisi), Georgia
Telephone: +995 436 222 393
DESCRIPTION
Hotel Tskaltubo Plaza is located right in the centre of spa town Tskaltubo close to Kutaisi. It offers 76 rooms equipped with a tea and coffee maker, plasma TV, air conditioning, minibar, in-room safe, WiFi and telephone.
The hotel has its own restaurant serving both Georgian and European dishes and there's also a terrace bar and patio area with live music, both perfect for relaxing. The hotel offers a wide range of other facilities including a massage room, Finnish sauna and gym. There is car parking on site and free luggage storage.
FACILITIES
24 hour reception
Room service
Private parking
Laundry services
Bar

Business centre
Medical treatments
Fitness centre
Sauna
Free internet access
PHOTOGALLERY
top
Address: 10/10 Zarubyan street, Yerevan, Armenia
Telephone: +374 60 400 440
DESCRIPTION
Since opening in January 2013, the Cascade Hotel in Yerevan has been pleasing customers with its quality of accommodation and family atmosphere. Located an easy stroll from the Cascade Complex and also the Cafesjian Centre of Arts, many of the Armenian capital's attractions are just a stone's throw from the hotel.
The 25 well-equipped rooms at the Cascade Hotel are classically furnished and are en-suite. They feature air conditioning, flat screen TV, phone and in room refrigerator. In addition there is free WiFi across the hotel.
The hotel's restaurant serves both Armenian and international cuisine and there's also a lounge bar where you'll be able to sip a cocktail or relax with a glass of wine. In addition a range of services are provided including free parking to the front of the hotel, 24 hour currency exchange and an ATM.
FACILITIES
24 hour reception
Room service
Private parking
Bar
ATM with currency exchange
Free internet access
PHOTOGALLERY
top
Hotel Tufenkian Historic Yerevan 4*
Address: 48 Hanrapetutyan St, Yerevan, Armenia
Telephone: +374 93 94 78 88
DESCRIPTION
Opened in 2012, Tufenkian Historic Yerevan Hotel is the most recent of the Tufenkian Heritage hotels to open in Armenia. Conveniently located at the junction of Hanrapetutyan and Buzand Streets, the hotel is situated near Republic Square right at the heart of the action. This elegant boutique hotel sets style at the centre of its agenda yet doesn't forget the importance of backing up aesthetics with good service.
The 85 rooms are equipped with designer fittings, satellite TV, minibar and furnishings chosen with comfort in mind. It offers free WiFi and a seasonal outdoor pool. The hotel's Kharpert Restaurant specialises in Armenian and Italian dishes; there's also a bar lounge and a conference centre.
FACILITIES
24 hour reception
Room service
Laundry service
Bar
Business centre
Outdoor swimming pool
Free internet access
PHOTOGALLERY
top
Address: 169 Mashtoc Str., Goris, Armenia
Telephone: +374 99 03 01 19
DESCRIPTION
Mina Hotel in Goris provides everything you expect from a decent three star hotel. Its 24 hour reception means there's always someone on hand should you need them, and there is also laundry service, porters available and room service. Luggage storage can be arranged for the day of check out. There is a parking area and also conference facilities.
Mina Hotel offers 22 comfortably furnished rooms in a modern style. Each room has its own bathroom as well as hairdryer, satellite TV and cable internet connection. WiFi is available in the hotel lobby.
FACILITIES
24 hour reception
Private parking
Laundry service
Free internet access
PHOTOGALLERY
top
Address: 100 Mashtots Str., Goris, Armenia
Telephone: +374 98 28 44 02
DESCRIPTION
Located on a hillside in the northern part of Goris, one of this charming hotel's main selling points is its ability to provide a fabulous view. Inside, a cosy feel is achieved by incorporating locally produced textiles, rugs and furniture to create a tasteful home away from home.
The Mirhav Hotel has 31 rooms, each with en suite bathroom, satellite TV, hair dryer and telephone from which guests are permitted free local calls. WiFi is free also. Laundry and ironing service can be provided on request and at an additional cost. The hotel's restaurant serves tasty dishes each evening as well as a simple breakfast to start the day.
FACILITIES
24 hour reception
Private parking
Laundry service
Free internet access
PHOTOGALLERY
top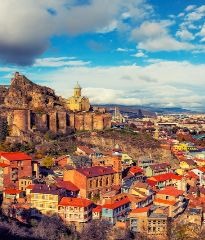 Tbilisi
The Georgian capital straddles the banks of the Mtkvari River. Founded in the 5th century by King Vakhtang I Gorgasali, it contains many bath houses fed by the area's natural hot springs and from it you'll have no problem spotting the Narikala Fortress which can be seen from most parts of the Old Town. The modern city is centred on Freedom Square, from where you can walk along Rustaveli Avenue where many of the best shops and restaurants are located.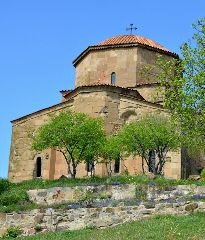 Mtskheta
Another of Georgia's UNESCO World Heritage Sites, Mtskheta's long history dates back to before 1000BC. Once the capital of the Kingdom of Iberia, it's located on an ancient trade route. Its many religious buildings include Svetitskhoveli Cathedral as well as the monasteries of St Nino, Jvari and Shio-Mgyime and the Zedazeni Complex which includes the church of St John the Baptist. The city also has a castle and a fortress.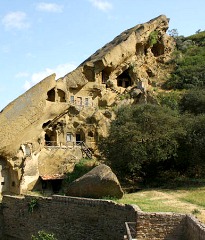 Uplistsikhe
Translating as "the Lord's fortress", Uplistsikhe is one of the oldest urban settlements in the country. This cave city near Gori was cut from the rock on the left bank of the Mtkvari River and thrived until it was abandoned as a result of devastating Mongol Raids in the 14th century. Although some parts of Uplistsikhe were destroyed by an earthquake in 1920, there are many structures and alleyways which remain to be explored, linked by tunnels cut from the rock.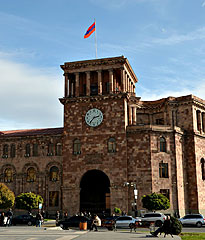 Yerevan
Nicknamed the "pink city" on account of the widespread use of rose-coloured tuff rock in its architecture, the Armenian capital was founded way back in 782 BC. Modern Yerevan occupies a commanding position in the Ararat Valley straddling the banks of the River Razdan. The view of the city from the Akhtanak Bridge which crosses the river gorge is sure to be a highlight of any stay in Armenia.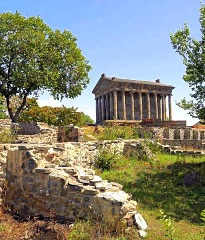 Garni
One of Armenia's must-see sights, the archaeological site of Garni features the remains of the temple and Roman-style baths built in 76 AD on the foundation of stone walls constructed several thousand years earlier. The temple is dedicated to the goddess of the sun, Mythra, and its design follows the theories of geometry laid out by Greeks Plato and Pythagoras. But there's more. Hike the canyons of the Goghi or Azat River that meet at Garni and watch the sun light up the stone of the temple, one of the most beautiful sights in the country.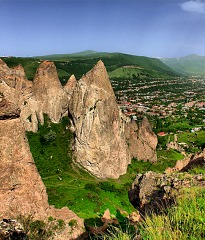 Goris
The attractive town of Goris is located in central Armenia and is famed for its thousands of rock-hewn dwellings. It has a number of important tourist attractions, among them the Axel Bakunts Museum dedicated to the life and work of one of Armenia's greatest writers of prose and its fruit-flavoured vodka. Nearby, there are a trio of fascinating monasteries: Tatev, Bgheno-Noravank and Tsitsernavank.